They not only protect your property investment and the people in it, fire sprinklers are the law. 
Norcal Fire Prevention can bring your commercial property up to code and keeps it there with our fire prevention and safety solutions. 
The real value of a fully operational fire suppression system is only truly appreciated in the event of fire. When a fire starts, it only takes minutes to cause extensive damage to a commercial building. 
A properly installed fire suppression system is designed to activate only in areas where the fire breaks out, thus containing and limiting fire damage to local areas where the sprinkler system activates. This allows enough time for the fire department to arrive and fully contain the risk of further fire and damage.
Our comprehensive services are tailored to meet all the fire safety needs of businesses, from fire sprinkler system design and installation to routine inspections, testing, maintenance, and repairs. 
In addition, our team of highly trained professionals will ensure that your fire sprinkler system adheres to the latest industry standards, all the while helping you maintain compliance with California laws and regulations as well as prevent the loss of precious human life and protect your property investment.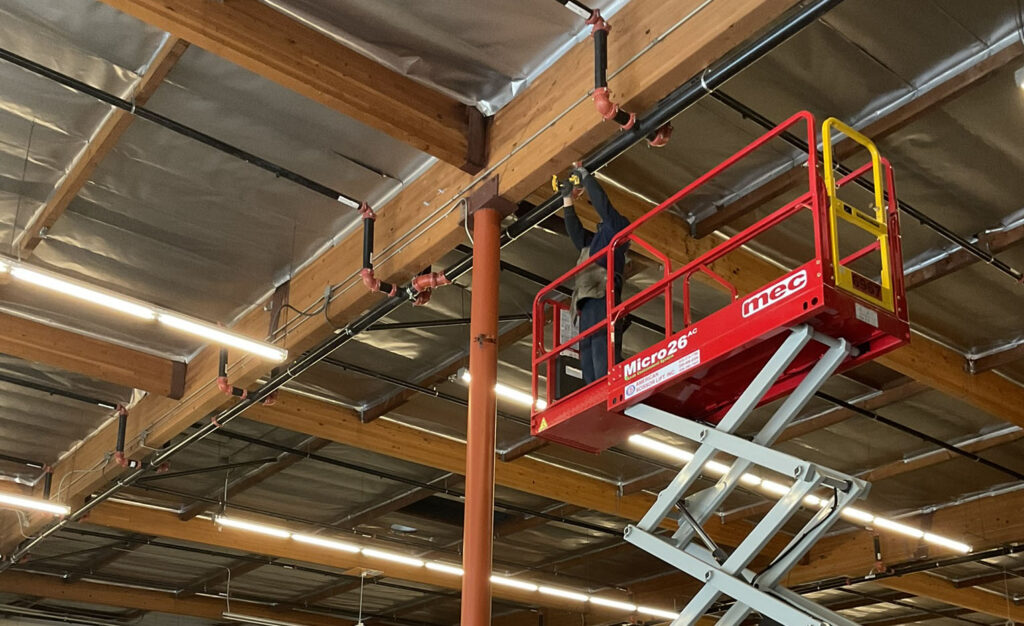 What are the fire sprinkler requirements for commercial properties in California?
All new commercial buildings which are 3,600 square feet and above are required to have fire sprinklers.
For those buildings that have existing occupancies and where additions are made that bring the total square footage to exceed 3,600 square feet require fire sprinklers be installed.
If there is a change of use or occupancy in a building that exceeds 3,600 square feet, an approved fire automated fire sprinkler system must also be installed.
Insurance underwriters check to see that buildings are compliant and that the mandated inspections as laid out in the fire code are adhered to.
Our expert fire protection services for your commercial building
Are you considering new construction, alterations, or retrofits to your building? Consider us your partner for all things related to fire safety.
From consultation to designs and engineering to installation, our experienced team can assist you with new installations of all types of fire protection systems from start to finish.
With over 30 years of experience, our team at Nor-Cal Fire Protection can design and complete a fire sprinkler system to meet your needs.
Types of fire protection systems we design and install:
Early suppression fast response (ESFR):
Warehouses

Storage houses
Wetpipe automatic system:
Office buildings

Retail buildings
High density fire sprinkler systems:
High commodity storage (p

lastics, r

ubber)
Rack fire sprinkler systems:
Stackable storage in warehouses
Dry pipe fire sprinkler systems:
Freezers

Cold storage buildings
Pre-action fire sprinkler systems:
Computer rooms

Server rooms
Nor-Cal's fire sprinkler installation process
Pre-Installation Meeting: This is our design process, where we will go over the blueprint, fire codes and any other pertinent information before installation.
Delivery of Materials: We will deliver all the parts and equipment to the job site that are needed to complete the project.
Installation Process: After reviewing the blueprint and layout and having all parts and equipment delivered to the job site, we begin installing the fire sprinkler system.
We take fire safety and code compliance very seriously, so rest assured we will install everything exactly how it's supposed to be! Reach out to us today to learn more.
Why chose Nor-Cal Fire Protection's services?
Nor-Cal Fire Protection has served the San Francisco Bay Area since 1994 and has successfully installed many fire sprinkler systems! Our team has advanced knowledge, experience and the proper equipment to get the job done correctly.
We are associated with the following trade associations:
National Fire Protection Association
American Fire Sprinkler Association
California American Fire Sprinkler Association
We only use the best materials to give you the best solution.
When lives and properties are at stake, it is not smart to cut costs on inferior materials. To ensure you can count on your fire sprinkler system day in and day out for many years of service, we only use the best materials by brands that put quality first.
In so doing, we put protecting you and your building first.






If you are in need of a fire sprinkler installation, look no further than Nor-Cal Fire Protection to ensure the safety and security of your commercial premises and those within it. We would be happy to help. 
Reach out to us today at (408) 776-1580 with any questions you may have!